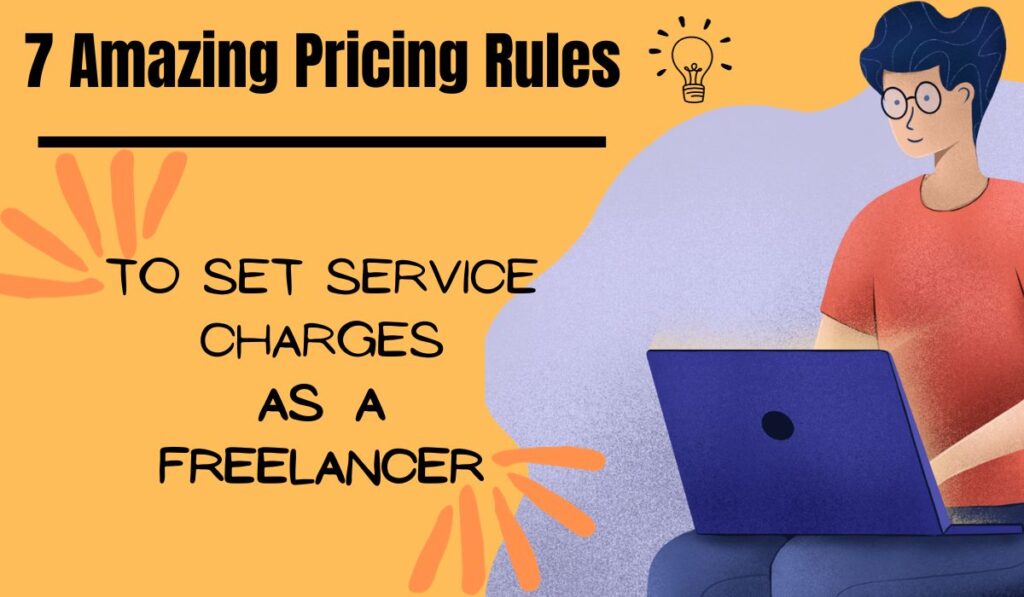 Is it challenging for you to set your Freelance Digital Marketing charges? Do you also think of setting charges lower than your competitor's?
Or are you someone who wants increase prices, but you feel like you're robbing your client?
Setting up charges is a dynamic process.
When I started my journey, I was also struggling to set the right price as a Freelance Digital Marketer.  
But during the journey, I discovered some methods that can be helpful for you.
Whether you are a writer, designer, developer, or any other type of freelancer, this blog can be helpful for you.
1. Evaluate Your Client's Budget
If your clients are small businesses or startups, you must consider their budget first. It might happen that they don't have a budget initially to fulfill your payment needs.
But it may be a valuable client which can lead to repeat business, or they can also refer you to someone else. So, sometimes working on a little less charge might be okay.
2. Set Service Charges Based on the Value You Offer
You can set charges based on the value you will bring to the table.
In such cases, you can justify your payment to the client by telling the strategies and methods you have formed over the years of your experience.
While pitching as a Freelance Digital Marketer, you should highlight your unique skills and strategies that set you apart from your competitors. 
3. Charge per Month or Project
If you are planning to pursue freelancing full-time or you want to do freelancing seriously. Then, you should set freelancing service charges per month or on a project basis. 
This approach has many benefits. First, it will remove your tension for finding a client every time.
And secondly, it will give you enough time to produce results that will help your client.
It also looks more professional.
4. Charge Extra for Extra Work
Some clients expect us to do several tasks repeatedly for free. For example, you are a social media marketer, but they want you to do graphic designing also.
Initially, you can do that for free for the first two times to maintain your relationship with the client.
But if they repeatedly ask you to do the work, then you can start charging extra for the extra work.
5. Define Payment Terms Clearly
I cannot emphasize enough how smooth and hassle-free your freelancing journey can become once you define your payment terms clearly from the start as Freelance Digital Marketer. Before starting the work, you should make a freelance contract.
In the contract, you should clearly define your payment terms. Here is a list of things to mention in the contract
Deadlines
Tenure of the contract
Advance payment (like 30% payment in advance)
Payment in three installments
Additional fee for endless edits, etc.
Once the client agrees to these terms, start working from them.
6. Offer a Package of Services
One way to set your quotation as a Freelance Digital Marketer is by offering a package of services. 
For example, you can offer content writing and SEO marketing services or content writing and social media marketing services as a package.
This way, you will able to justify your high pay to clients.
7. Offer Discounts
Discounts can be a great way to retain a client.
Sometimes, the client doesn't have a budget to pay you more. In such scenarios, you can offer them some discount, like 10 to 15%, for the first two months, and later you can increase your charge for the next two months.
Like this, you can retain a client for at least three to four months.
Conclusion:
Freelancing is a long journey.
It can take some time to find good work and fair compensation. So, have patience.
In this freelancing journey, being adaptable is a valuable skill to master.
You should be able to adapt to industry trends, practices, technologies, and pricing strategies.
Focus more on learning and gaining experience to succeed in this freelance world.
All the best for your journey!
If you are looking for a content writer, then I can help you. Hi! I am Aparna Sharma, a content writer who can write any content. You can connect to me through email or Instagram. Email id: – [email protected] and Instagram id: @aparnasharma.io